Kanhar Dam: Petitioners Unsatisfied with the High Level Committee Report, NGT calls PCCF-U.P. to present before court
---
The High Level Committee constituted by the National Green Tribunal, Principal Bench New Delhi (vide its judgment dated 7th May, 2015 in Om Dutt Singh & Anr vs State of U.P. & Ors) submitted its report dated 28th October, 2015 to the court. The court vide its order dated 2nd November, 2015 and 20th November, 2015 asked the parties to submit their suggestions.
The applicants showed their dissatisfaction with the report. Senior Advocate Mr. Sanjay Parikh argued that the report is just an eyewash as it does not discuss the important dimensions of the project like cultural command area and several other features which are necessary for any irrigation dam project. He emphasized that the report is also highly inadequate in addressing the issues of Resettlement & Rehabilitation. He argued that the committee did not even visit the areas in Chhattisgarh and Jharkhand where R & R is yet to be decided and the survey work is yet to be completed. The committee visited only 1 village and submitted its observation. He also submitted that in lieu of completing the old work, the Irrigation Department is completing the whole project. He cited the example of ongoing construction of spillway which was not in existence when the judgment was passed in May, 2015.
The bench headed by Hon'ble Justice Swatanter Kumar asked for the presence of Principal Chief Conservator of Forests-Uttar Pradesh (chairman of the committee) in person before the bench on Monday 14th December, 2015.
A scanned copy of the full report can be downloaded from http://vindhyabachao.org/embeds/kanhar/Full_Report_NGT_Committee_Kanhar.pdf
Our Comments on the shortcomings in the report can be seen from http://vindhyabachao.org/activities/environment/271-short-review-of-the-report-submitted-by-ngt-constituted-committee-on-kanhar-dam
The proceedings of the National Green Tribunal can be accessed from http://vindhyabachao.org/kanhar/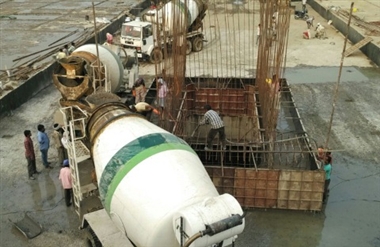 Work on spillway of Kanhar Dam| Image courtesy: Dainik Jagran 6th Dec, 2015
Tags: Ministry of Environment, Forests and Climate Change, Kanhar, Litigation, National Green Tribunal, Dams & Barrages, Uttar Pradesh, Reports