REPORT: Sloth Bears of Mirzapur- Assessment of Habitats, Man-Bear Conflict and Wildlife Corridors
---
The study was conducted by Vindhyan Ecology and Natural History Foundation in partnership with Worldwide Fund for Nature-India and with the help of Forest Department-Mirzapur (Uttar Pradesh) in the year 2015-2016
Mirzapur, once a first-rate hunting district, has been known for its great wildlife heritage in pre-independence time. However, this region is yet to receive the deserved attention from the government and wildlife fraternity. This report is the first published work on the distribution of any terrestrial wild animal in district Mirzapur of Uttar Pradesh. This not just include ground truthing data on the distribution of Sloth Bears, the flagship species of forests of Mirzapur, but also gives an insight into the conservation threats, challenges, and the possible solutions. This document is expected to be an eye-opener for the government, policy planners, wildlife managers, researchers as well as general nature lovers."
---
It is interesting to see the findings summarized on the map view below! ?
Click the Red Icons in the map to see forest range wise summary of information
---
Sloth bears have been known to be historically inhabiting the forests of Mirzapur which is marked by dry deciduous forests and hilly terrain. They are endemic to the Indian subcontinent and is only species of bear adapted to myrmecophagy i.e. feeding on ant and termite apart from sugar-rich fruits which form its main diet. The flexibility in their diet has been a very critical factor for the sloth bears to thrive in small home ranges, which in turn have helped them survive in harsh conditions and tolerant to a certain level of human disturbances. However, protection of their prime habitats is the key to the protection of this animal which is also protected as Schedule-I of Wildlife (Protection) Act, 1972.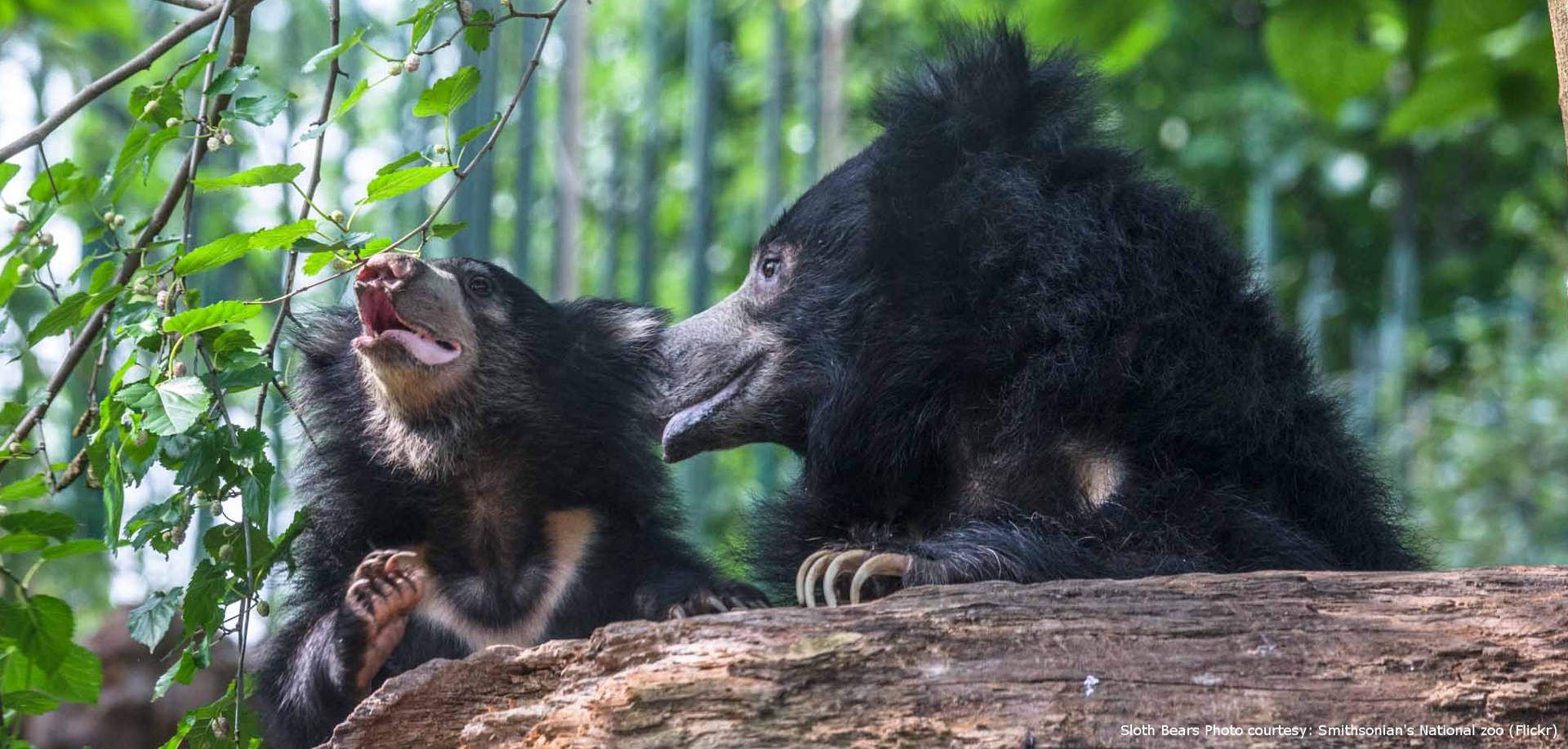 Cumulatively 239 geospatial evidences of sloth bears (signs like scats, scratch marks and the typical bear dug-outs) were collected over a total trail of more than 26 km spanning over 5 different forest ranges-
Marihan, Sukrit, Chunar, Patehara, and Dramadganj.
The 106-page report gives a detailed description of each of the forest ranges surveyed based on their topography, water sources, continuity with surrounding forest areas as well as on general protection status and threats with help of 22 geospatial maps, 43 images, and 11 data representations. The study estimates an area of 430 sq.km. of core sloth bear habitat and a total of 1110 sq.km of Reserve Forest area which may be protected as wildlife habitat.
Towards the end, there are several suggestions based on ecological, administrative and legal measures which we believe will be beneficial to the forest and wildlife managers.
The contents and the full report can be downloaded from the links provided below.
---
TABLE OF CONTENTS
---
"Report on Sloth Bear Habitats, Assessment of Human-Bear Conflict and Identification of Suitable Corridors for Wildlife Conservation in District Mirzapur of Uttar Pradesh"
---
The report can be freely accessed, copied and distributed under Creative Common Attribution, Non-Commercial, No Derivatives India license (CC-BY-NC-ND-2.5-IN)
Tags: Scientific Publications, Biodiversity & Wildlife, Reports, Man Animal Conflict