Representation on Improvement of Wildlife Suitability in Halia Range of Kaimoor Wildlife Sanctuary- Mirzapur
---
A representation was submitted to the Divisional Forest Officer-Kaimoor Wildlife Sanctuary (Mirzapur) following our recent visit to its Halia range. Following is the text of the representation.
---
Dear Sir,
We have visited your Sanctuary's Halia range between 20-22nd February 2018. The forests in this particular range are blessed with River Belan and several other tributaries which flows through it. This range is continuous with Bagdhara Wildlife Sanctuary, Sanjay Tiger Reserve and Son Gharial Sanctuary at village Bicchhi in Madhya Pradesh in the south. Similarly, Patehara range and Dramadganj range on the eastern and western side of the Sanctuary has provided it with much-required continuity necessary for the survival of wildlife. However, we were very much pained to see so much human disturbance, radical change in the landscape and the severe irreparable damage caused to the wildlife habitat and movement. Following are some of our concerns and recommendations:
i) Monitoring of traffic
Observation- During our visit, we found that there is hardly any monitoring of the vehicles moving through the Sanctuary. We observed buses, trucks plying through the forest road and very frequent movement of goods and passenger vehicles even during the night. There is one temporary barricade created at Harra which is often opened by local people by their own. During night time there is only one person who stays there and he is overloaded with housekeeping as well as keeping a watch on the barricade. As far as we observed, there is no record kept of the vehicles moving in and out of the Sanctuary area.
Recommendation- There should be at least two designated staff with Walkie Talkie. Barricades need to be created at every entry and exit points of the sanctuary. The barricades need to be upgraded with permanent structures monitored through CCTV cameras to record each and every movement. A record book must be kept for all vehicles entering and exiting the sanctuary.
ii) Drinking Water Supply
Observation- There is a severe scarcity of water resources in the range. All the tributaries of Belan are dried up and the River Belan has water only in depressions on the river bed. The access to the River is hindered by agricultural settlements along the river bank and the farmers do not like animals to enter their cultivated land. Therefore, it becomes very difficult for the wild animals to access the drinking water source. This kind of situation may get further worse and lead to man-animal conflict.
Recommendation- There is a requirement to create several waterholes in this range. As this particular range is also dominated by human settlements, extra precaution need to be taken while selecting the locations for such water holes so that man-animal conflict is prevented.
iii) Improving the habitats around the River Belan
Observation- The floodplains of River Belan is mostly covered with agricultural fields. This is despite the fact that on both sides of the River there are forests which are known for animals like Swamp Deer, Sambar, Sloth Bear, Leopard, Chinkara, Blackbuck etc. The river Belan is itself a habitat of Mugger Crocodile and critically endangered Gharial. In such a dry landscape with only 3 months of rainfall in a year, both access to River Belan and availability of water in it needs to be ensured. The agricultural fields which are spanned across the floodplain have not only created hindrance to the accessibility of the wild animals to the river but have also created immense competition for water resource in this landscape. Also, the habitats for aquatic birds are completely absent on both the banks and has severely encroached the spawning places for aquatic reptiles.
Recommendation- The floodplains need to be protected from any kind of human disturbances and should be reclaimed for regeneration of aquatic flora which will be suitable for the wildlife. In a protected area meant for wildlife, this kind of human-induced land use change has a significant impact on survival of wildlife in the forests and for the aquatic fauna.
iv) Nuisance from domesticated dogs
Observation- As the Halia range is dominated by several human settlements and villages, there is a significant threat from the domesticated dogs as well as free ranging feral dogs. Domestic dogs are considered as one of the top five invasive animal species on Earth. They not only attack and prey on wild animals like herbivores, turtles, birds but also competes with animals like jackal, wolf, hyaena, and vultures.
Recommendation- There is an urgent requirement to carry out a census and a sterilization campaign for all domesticated and feral dogs inside and around the Sanctuary. The feral dogs should be translocated to some far off places or in a dog shelter. The villagers are needed to be educated about the issue and the domestication of dogs need to be regulated in such a manner that they should have least interference with the wild animals.
With humans encroaching the wildlife habitat, these feral dogs have a very high impact on the niche of these natural scavengers like this Egyptian vulture and this jungle crow. Shot near Kaimur Wildlife Sanctuary, Mirzapur (U.P.) @vindhyabachao @SanctuaryAsia @WWFINDIA pic.twitter.com/QXuCrXIlYT

— Debadityo Sinha (@debadityo) February 26, 2018
v) Landscape change from Adhwa-Meja Link Canal/Bansagar Canal
Observation- The construction of this canal is in full swing and we found the manner in which the same is being done highly disastrous to the wildlife. The elongated area through which the canal is being constructed was the only remaining stretch of dense forests in Halia range and is already facing disturbances from all the surrounding area. This canal has internally fragmented this small patch of forest into two parts making it highly unsuitable for wild animals. Following are some of our observations:
The muck excavated has been dumped haphazardly alongside the road and the canal.

The canal itself is very deep with cemented lining from inside. The very fact that the slope of the canal is very steep and is also quite deep, the design itself is very unsafe as if by any chance any animal steps into the canal, there is no way it could escape. This has created at least a 10 km long trap inside a wildlife habitat in the prime habitat of the sanctuary.

The height of canal is some areas are at very high elevation than surroundings and with a steep slope. This has created a complete blockade on movement of animals.
Recommendation- We firmly believe that this kind of destruction of prime wildlife habitat could have been prevented easily if the canal would have been realigned slightly outside the forests. There has been irreparable damage already caused and it would be very difficult to restore the ecosystem. However, we believe that the wildlife corridors with sufficient width and at lesser distances are urgently required. As the height of the canal is at a higher elevation than surrounding forests in some stretches, both underpass and overpasses with wildlife compatible design need to be constructed. We strongly suggest you to carry out a proper assessment by Wildlife Institute of India (WII) to suggest the appropriate design of such overpass and underpass.
I request you to please consider our suggestions and take the necessary steps as early as possible.
Enclosed: Annexure- Photographs of muck dumps and the under-construction canal.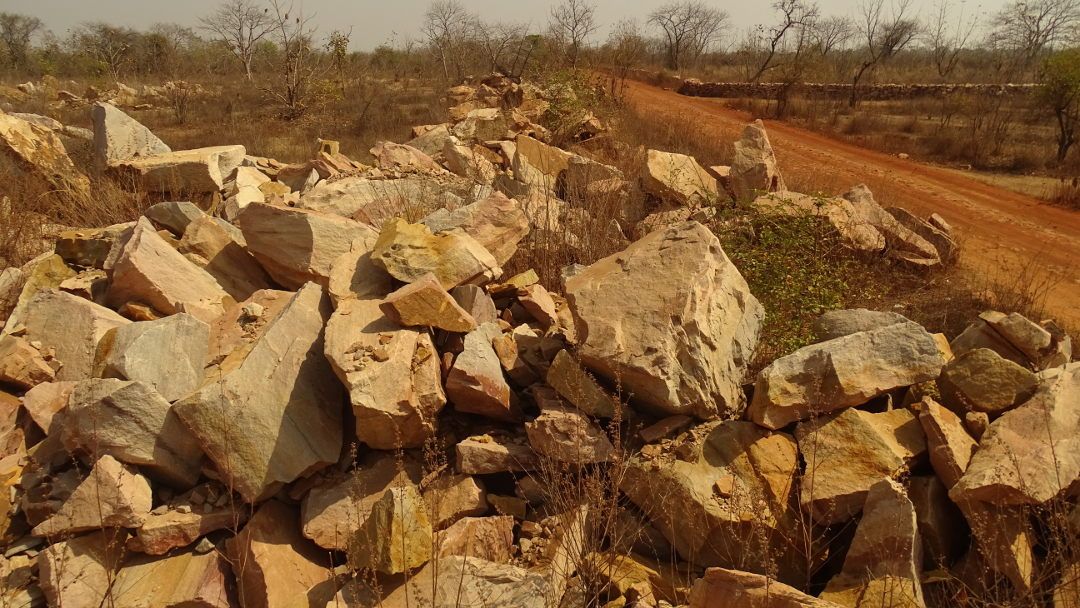 ---
The representation was submitted to the office of DFO-Kaimoor Wildlife Sanctuary Mirzapur on 26 February. The content has been published after being edited for minor grammar corrections.
Tags: Forest, Representations, Press Release, Kaimoor Wildlife Sanctuary