Neglected And Unprotected | Sanctuary Asia
---
August, 2015 | http://www.sanctuaryasia.com/magazines/conservation/10065-neglected-and-unprotected.html
In the shadow of India's famous tiger reserves are a host of wildlife sanctuaries, conservation reserves, reserve forests, wetlands and grasslands that are home to bountiful biodiversity. Unfortunately, too many of these habitats, critical to wildlife in their own right, are quietly and insidiously being degraded or encroached.
Sanctuary readers, as intrepid as they are, often send us harrowing accounts of habitat mismanagement from these little visited wildernesses. Here, three separate readers share their experiences from three such areas, and call on the authorities to take swift action.
Point Calimere Wildlife Sanctuary
Where: Nagapattinam district, Tamil Nadu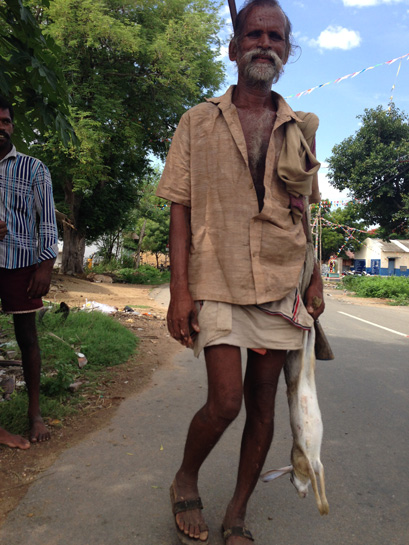 Photo: Paramvir Singh.
The 21.47 sq. km. sanctuary was created in 1967 for the conservation of the near threatened blackbuck antelope, an endemic mammal species of India. It is also famous for large congregations of waterbirds, especially greater flamingos.
On the way from Puducherry to Point Calimere Wildlife Sanctuary, Paramvir Singh saw a man carrying a dead Indian hare Lepus nigricollis, and what looked like a country rifle. Unable to question the angry man in the local language, his testimonial stands on these two images.Paramvir says that the Point Calimere Wildlife Sanctuary is in a bad condition. He could only spot about four to five blackbucks, but saw an estimated 200 heads of cattle, a tractor mining sand, and locals drinking and bathing on the sanctuary's beach. He further noted that visitors, unmindful of the marked trails, were 'off-roading' in the sanctuary.
Paramvir Singh is a cinematographer/film maker working out of Mumbai. He has a great love for India's wildlife and natural heritage.
Nani Kakrad Wetland
Where: Navsari district, Gujarat
Photo: Mohit Rathod and Minal Patel.
In 2009, the Ministry of Environment and Forest initiated an action plan to develop the wetland area of Nani Kakrad in Navsari, Gujarat. Nani Kakrad is recognized as a wetland of national importance by the government, and is visited by 80 different species of migratory and non-migratory birds. It is the only area in south Gujarat that has the potential to become a bird sanctuary. Here, the amalgamation of rain water and brackish water, balanced by bountiful food throughout the low-lying marshlands, attracts winged visitors from far flung areas.
Despite its rich resources, Mohit Rathod and Minal Patel say that due to lack of political support and mismanagement, this area is losing its integrity, and being used for prawn farming and poaching.
The brackish waters of the area are favourable to prawn farms that can be profitable to the locals. The diversion of water to numerous such farms has affected the feeding grounds of the birds, and a decrease in the bird population has been recorded. Rathod and Patel say that poaching too is taking its toll on the wetland, and birds are hunted via all means including slingshots, nets and specialized traps.
If the government can chalk a Joint Forest Management model with locals, and conservationists, the rich flats of Nani Kakrad may indeed be preserved for years to come. Else, stuck between money and ministers, the birds face a bleak future.
Mohit Rathod and Minal Patel hold Bachelors of Science in Forestry. While Mohit aspires to enter the Indian Forest Services, Minal is a wildlife photographer.
Kaimur Wildlife Sanctuary and Mirzapur Forests
Where: Mirzapur district, Uttar Pradesh
Photo: Debadityo Sinha.
Debadityo Sinha of Vindhya Bachao Abhiyan has been working relentlessly to have the forests of Mirzapur notified as Protected Areas, and recognized for their rich biodiversity. These forests house reasonable numbers of blackbuck, chinkara, sloth bear and chital, amongst other wildlife. Unfortunately, over the last five years, Sinha has recorded a shocking decline in the wildlife populations of these forests, while illegal mining, poaching, encroachment and tree felling have become rampant.
The Forest Department of Mirzapur is divided into the Mirzapur Forest Division and Mirzapur Wildlife Division. In the Forest Division there are eight forest ranges (Patehara, Sukrit, Marihan, Chunar, Mirzapur, Lalganj, Dramadganj and Wyndhamfall) which are not protected under the Wildlife Protection Act, but are rich in wildlife. The Wildlife Division deals with the Kaimur Wildlife Sanctuary. Sinha says that the Patehara Forest Range is presently the richest of all forest range in Mirzapur, and deserves notification as a Protected Area.
Sinha and his team have been trying to generate interest among forest staff but have found no support from the state government. He observes that the land mafia has also started encroaching forest land, and in some cases have gone as far as to change the revenue records of the district to evade forest clearances. In an attempt to tackle these problems, Debadityo has been attempting to engage with government officials, and filing Right to Information (RTI) applications, but to no avail.
There are several other reasons that have made the issue complex for Sinha. In 2013, the conservationist exposed the forest department staff showing forest area as barren land to facilitate clearance to Welspun Energy's 1320 MW coal based thermal power plant. In fact that was only the beginning and subsequently several illegalities were found in the Environmental Impact Assessment process of the project, the lead to it being challenged by the National Green Tribunal. Debadityo has also been instrumental in pointing out the irregularities in forest diversion for the Kanhar dam.
Debadityo Sinha is an environmentalist and activist based in Mirzapur. He is founder of Vindhya Bachao and an independent consultant on environmental issues. He has also petitioned in several litigations related to thermal power plants, dams, and river conservation.
Author: Compiled and edited by Cara Tejpal.
- Original Link to the article: http://www.sanctuaryasia.com/magazines/conservation/10065-neglected-and-unprotected.html