Over the past 7 years of its existence, Vindhyan Ecology and Natural History Foundation (VENHF) has been actively pursuing the cause of wildlife protection in the District Mirzapur which is facing an immense threat from land use land cover change owing to mining, encroachment and other human-induced activities. The Vindhya Bachao campaign has gathered enough traction in recent years due to its clear stand and success in saving some of the critical wildlife habitats using strong and credible scientific research and legal efforts. However, at every step, we felt that the major challenge in the protection of this landscape is the unawareness of wildlife diversity and lack of reliable inventory of faunal diversity found in this area.
In the year 2017, VENHF in association with WWF-India published a research report on Sloth Bears in Mirzapur, which for the first time mapped the distribution of Sloth Bears in the district and identified five forest ranges as critical wildlife habitats. It was suggested that such areas are highly vulnerable and require legal protection as 'Protected Area' to prevent the extinction of wildlife. The report was widely acclaimed by wildlife fraternity and for the first time, the forest of Mirzapur came to be recognized for its wildlife. The report was also acknowledged by Dr Harsh Vardhan, the then Minister of Environment, Forest & Climate Change in July 2017 who assured positive deliberation.
In the year 2018, VENHF, in collaboration with the Mirzapur Forest Division and with the funding support of Wildlife Trust of India-David Shepherd Wildlife Foundation, Earth Matters Foundation and crowdfunding platform Bitgiving- conducted the first-ever camera trap survey in three contiguous forest ranges (Marihan, Sukrit and Chunar) to prepare an inventory of wildlife animals never recorded in the past.
We are glad to share the long-awaited publication based on the survey which is titled as "Wildlife Inventory and Proposal for Sloth Bear Conservation Reserve in Marihan-Sukrit-Chunar Landscape of Mirzapur Forest Division, Uttar Pradesh" and is authored by Debadityo Sinha (Managing Trustee-VENHF) and Rakesh Chaudhary (DFO-Mirzapur Forest Division). Avinash Kushwaha, Sudhanshu Kumar and Mohit Chauhan were part of the research team and are also the contributing authors of this report. The camera trap survey was undertaken in the months of May-July 2018.
The Schedule I (WPA, 1972) animals recorded from these forest ranges are Sloth Bear, Leopard, Asiatic Wild Cat, Rusty Spotted Cat, Indian Wolf, Indian Gazelle, Blackbuck, Peafowl, Bengal Monitor and Mugger Crocodile.
Other important species recorded here are Striped Hyena, Jungle Cat, Red Fox, Golden Jackal, Sambar Deer, Spotted Deer, Ruddy Mongoose, Grey Mongoose , Palm Civet, Small Indian Civet, Bluebull, Wild Boar, Indian Crested Porcupine, Indian Hare, Five-striped Palm Squirrel, Hanuman Langur, Rhesus Macaque, Painted Spurfowl, Red Junglefowl and many other birds. Several species are recorded for the first time in the district as well as in the State.
The report has been acknowledged by leading wildlife experts like Mike Pandey (Ambassador-Govt. Of U.P., Wildlife & Environment), Prerna Bindra (Former Member-NBWL), Dr H.S. Bargali and Dr Nishith Dharaiya (IUCN Co-Chair, Sloth Bear Expert Team), Dr Faiyaz Khudsar (Scientist In-Charge, Yamuna Biodiversity Park) and Ananda Banerjee (Conservationist & Author).
The Foreword to the report is written by well-known wildlife scientist and Former Director of Bombay Natural History Society- Dr Asad Rahmani.
The report proves the presence of rich biodiversity in this neglected region. I hope the concern authorities will take appropriate measures, as suggested in the report, and make Marihan-Sukrit-Chunar Landscape of Mirzapur Forest Division as Sloth Bear Conservation Reserve. (Excerpt from the Foreword)

~ Dr Asad R. Rahmani
What the Experts are Saying about the Report?
---

My congratulations to the authors for this much needed landmark achievement. This is a great contribution to wildlife conservation which I am sure will open many doors to the little known and undiscovered part of Mirzapur jungles. The report exposes the status... the challenges... and the current state of this enigmatic region...sadly like many places in India...the diversity and rich wildlife of Mirzapur is facing threats of extinction. There is an urgent need for protection and immediate action. The government and stakeholders need to come together and in a united effort to address the various issues. I am hopeful and confident that the efforts put into this study would be instrumental in preserving this landscape.
Ambassador- Govt. of Uttar Pradesh (Wildlife & Environment); Chairman, Earth Matters Foundation

Much of the wildlife of Mirzapur has vanished...unsung. Once flush with cheetahs, tigers and caracals, this little known, threatened wilderness still harbours endangered animals like the sloth bear, Indian wolf, leopard, rusty-spotted cat among others. It is hoped that this well-researched and timely report of a neglected but important wildlife area, will lead to its protection for posterity.
Writer and Former Member- National Board of Wildlife
One of the takeaways from the 21st International Conference on Bear Research & Management, November 2012, New Delhi was the lack of scientific research on four species of bear found in India despite being large charismatic mammals. Globally there are just eight species of bear. Thus, this report is an important milestone in highlighting a least studied species in an area off the conservation radar despite its rich ecological heritage.
Author & Wildlife Conservationist

I congratulate the authors and the team for this much-needed work. I am sure this work will fill the gaps of science-based information on wildlife in underappreciated areas like Mirzapur. This information will be very helpful to us, the Bear Specialist Group of IUCN, while updating the sloth bear distribution map, where we do not have authentic information about the presence of sloth bear in many of the forest areas. The report reveals the needs for formulating science-based conservation strategies for the wildlife and habitats in this area. I have no doubts that this report can be a model for other parts of India to unveil the ecological health and habitat condition of the forest.
Co-Chair, IUCN Sloth Bear Expert Team; Associate Professor at HLN Gujarat University

The dry tropical deciduous forest of Mirzapur is known to be dominated by Anogeissus latifolia, Lagerstroemia parviflora, Terminalia tomentosa, Hardwickia binata, Boswellia serrata, Acacia catechu etc. along with patches of Shorea robusta as major tree species, making three storey forests at some places. These forests have been home for most of the typical ungulates found in a dry deciduous forest along with many carnivores such as Leopards, Sloth bear, and other lesser cats. I congratulate the team for bringing out a detailed report and providing much-needed baseline data of this region. I am sure that the findings of the report shall be very useful for the Forest Department to prepare a long term conservation strategy of the region.
Scientist In-Charge, Yamuna Biodiversity Park

The proposed area is rich in wildlife diversity and provides crucial habitat connectivity to maintain the genetic diversity between Protected Areas and other forests in the landscape. Considering the location of the proposed area, rich biodiversity and impending threats in due course of time the proposal offers an opportunity to policymakers to contemplate the issue in all sincerity which will not only secure wildlife in long run but also award local communities with a healthy environment, availability of water and future tourism opportunities.
Co-Chair, IUCN Sloth Bear Expert Team; Deputy Director-Corbett Foundation
---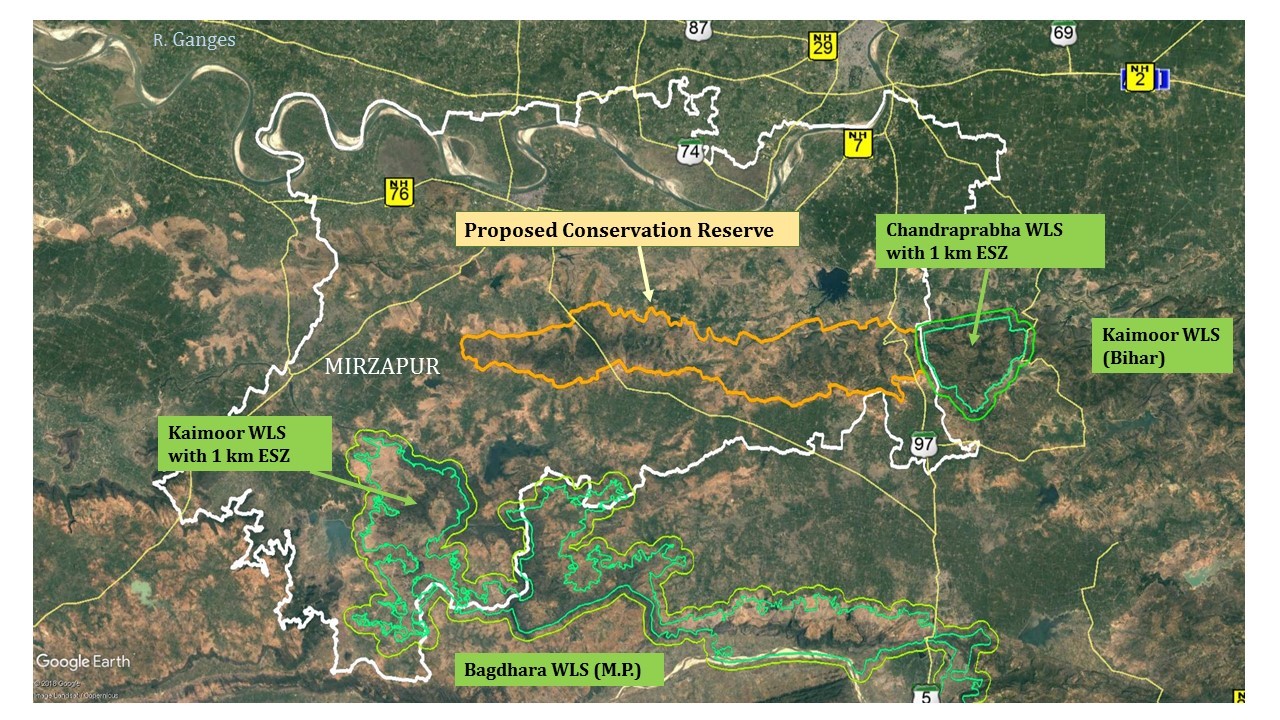 The report claims that the forest ranges proposed for Conservation Reserve (CR) are an ideal wildlife habitat of Vindhya landscape and are of extreme significance as it connects Eastern Kaimoor landscape (consisting of Ranipur WLS in U.P. and Son Gharial WLS, Sanjay Dubri Tiger Reserve and Bagdhara WLS in M.P). with Western Kaimoor landscape (consisting of Chandraprabha WLS of U.P. and Kaimur WLS of Bihar). With the help of this inventory, the authors have proposed for declaration of Conservation Reserve of approx 400 sq.km in the Forest Division. Some of the selected images from the camera trap survey are shared below. For more details on the landscape, wildlife history and the threats to the wildlife of Mirzapur, we urge our readers to download the report.
The report and its contents are published under open access license and can be downloaded from the link below.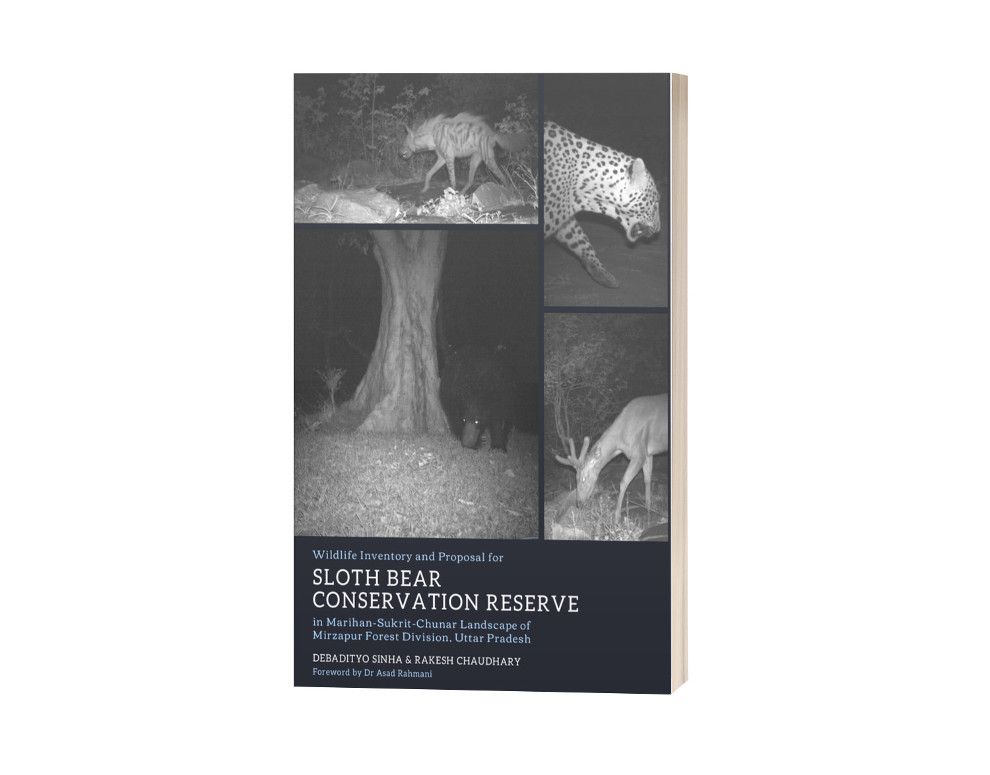 ---
News Coverage
Declare UP's Mirzapur forests as a conservation reserve, says study |
Mongabay India
(06 August 2019)
Sloth bear surprise for experts in Mirzapur forests-
The Times of India
(27 July 2019)
दुर्लभ प्रजाति के वन्य जीवों की मौजूदगी के प्रमाण |
हिंदुस्तान
(24 July 2019)
मड़िहान- सुकृत, चुनार रेंज में मिले दुर्लभ वन्यजीव |
अमर भारती
(22 July 2019)
समर्पित संरक्षण रिजर्व बनाने का प्रस्ताव तैयार |
दैनिक जागरण
(22 July 2019)
---